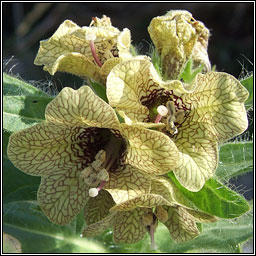 Family: Solanaceae
Henbane * Hyoscyamus niger

Flowering time: June - September. Annual or biennial.

Habitat: Sunny, open, calcareous ground, most frequently coastal but declining. Shingle, sandy and waste ground, arable and grassy downlands.
RDB-Vulnerable

A tall, erect plant with sticky-hairy, foetid-smelling leaves and stems. The trumpet-shaped creamy-yellow flowes have dark purple-brown veins. Height 40-80cm. All parts of this plant are very poisonous.