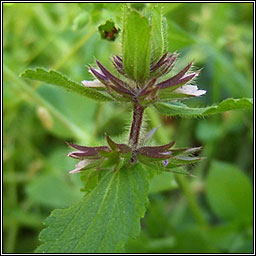 Family: Lamiaceae
Stachys arvensis * Field Woundwort


Flowering time: April-September. Annual.

Habitat: An arable weed found on acidic or sandy cultivated or waste ground. Less frequent in Scotland and Ireland. RDB-Near Threatened

Hairy, +/- branched plant with axillary whorls of pale pink-purple, 2-lipped flowers, the calyx nearly as long as or equal to the corolla. Blunt-toothed, oval leaves, the lower stalked, upper leaves un-stalked.