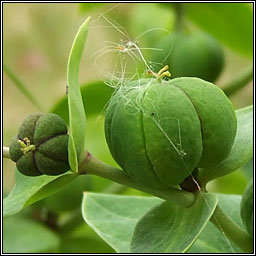 Family: Euphorbiaceae
Euphorbia lathyris * Caper Spurge

Flowering time: June-July. Biennial

Habitat: Rare as a native in open woodland on basic soils in S England. Also found on roadsides, arable and waste ground as a garden escape or relic of cultivation.

An erect, hairless plant, the flowering umbels with 2-6 main rays and bright-green pointed bracts followed by smooth seed capsules with brown or grey seeds. The greenish-grey waxy leaves are opposite, un-toothed and un-stalked. Height to 1.5m. Poisonous.