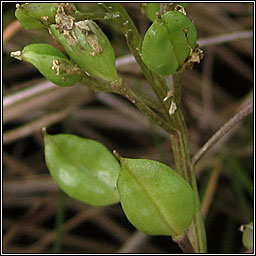 Family: Brassicaceae
Cochlearia anglica * English Scurvy-grass


Flowering time: April-June. Biennial or perennial

Habitat: Can be locally common on salt-marshes and on firm mud near high-tide mark. Less frequent than Common Scurvy-grass, and not found inland.

White four-petalled flowers are followed by flattened, blunt-tipped fruit. Stem leaves are stalked or clasping, the basal leaves tapering to stalk.

Similar: Common Scurvy-grass, C. officinalis. Basal leaves are kidney or heart shaped, seed pods rounded.