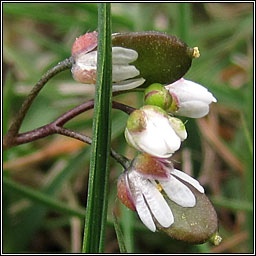 Family: Brassicaceae
Erophila verna sens lat. * Whitlow Grass


Flowering time: February-June. Annual.

Habitat: Common on dry, sandy grassland, rocks, heaths and dunes.

Small white flowers with four petals deeply divided to more than half their length are followed by hairless, long-stalked fruit. Fruits are flat and oval-elliptical, the seeds 0.5+ mm long. Height 2-10cm.
Many very similar subspecies occur.