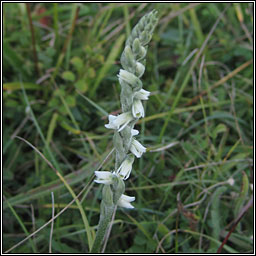 Family: Orchidaceae
Spiranthes spiralis * Autumn Ladys-tresses


Flowering time: August-September. Perennial

Habitat: Dry, calcareous or grasslands, dunes and cliff-tops

A slender, erect plant with a single spiral of scented white flowers. The basal rosette of oval blue-green leaves is next to the stem-base, not encircling it. Round stem with bract-like scales, 7-20 cm.