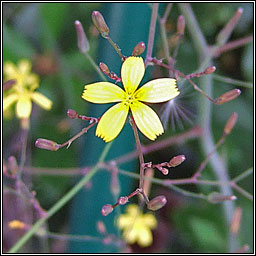 Family: Asteraceae
Mycelis muralis
Wall Lettuce

Flowering time: June - September. Perennial
Height: 25-100cm
The broad panicles of small pale-yellow flowers on very slender, branched stems are followed by blackish, beaked seeds. The toothed leaves are pinnately-lobed with a large triangular end-lobe.

Habitat: Calcareous walls, waste ground, rocky woodland and hedgebanks.