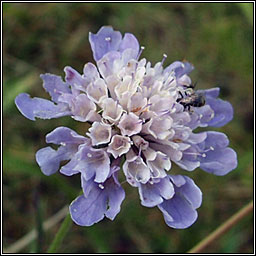 Family: Dipsacaceae
Scabiosa columbaria * Small Scabious

Flowering time: July - September. Perennial

Habitat: Can be locally frequent on calcareous grasslands. Scarce in Scotland, absent from Ireland

A slender, erect plant with branched stems and stalked, irregularly lobed basal leaves. The stem leaves are deeply-pinnate with very narrow lobes. Bluish-violet flowerheads, the outer florets much larger than the inner. Corollas with five un-equal lobes. Height 15-70cm

Similar: Field Scabious, Knautia arvensis.