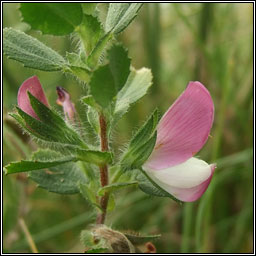 Family: Fabaceae
Ononis repens * Common Restharrow

Flowering time: June - September. Perennial

Habitat: Often coastal on dunes, rough grassland, scrub and waste ground

A sprawling plant with branched, woody stems, sticky shoots and alternate leaves with 1-3 leaflets. The solitary pinkish-purple flowers grow on short stalks from the leaf axils, followed by seedpods +/- same length as calyx. Height/spread 10-50cm.

The long, tough roots made ploughing and harrowing very difficult as they would become entangled and bring horse-drawn machinery to a halt.