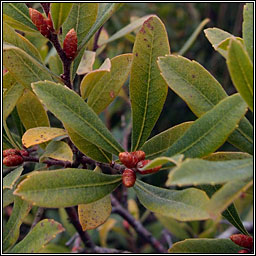 Family: Myricaceae
Myrica gale * Bog-myrtle

Flowering time: April - May. Deciduous shrub.

Habitat: Damp heaths, fens and bogland. Can be locally common in the west and in Scotland, rare and declining due to habitat loss elsewhere.

The dioecious flowers are produced in catkins on separate plants, the female flowers yellow-green, the male reddish-brown. Fruit is small, winged nutlets surrounded by enlarged bracteoles. Oblong leaves are greyish-green and very fragrant when rubbed. Bushes can grow to 2m tall.