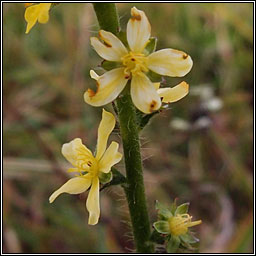 Family: Rosaceae
Agrimonia eupatoria * Agrimony

Flowering time: June-September. Perennial

Habitat: Dry grassland and scrub, hedgerows and roadsides, usually on calcareous soils.

An erect, hairy, branched or unbranched plant with tall spikes of small yellow flowers, the 5 petals usually without notches. Fruit have hooked bristles. Leaves are pinnate with 3-6 pairs of toothed leaflets and smaller intermediate leaflets. Height to 100cm

Similar: Fragrant Agrimony, A.procera. Only on acidic soils.