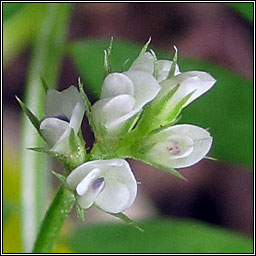 Family: Fabaceae
Vicia hirsuta * Hairy Tare

Flowering time: May-August. Annual

Habitat: Rough grassland and disturbed ground on neutral soils, also found on sea-cliffs and among shingle. Found throughout England and Wales, less frequent in Scotland and Ireland.

A slender, scrambling plant with short racemes of very small whitish-lilac flowers followed by hairy seedpods which turn black when ripe. Leaves have 4-10 pairs of linear-oblong, blunt-ended leaflets with tendrils at the tip. Height / spread 20-40cm.