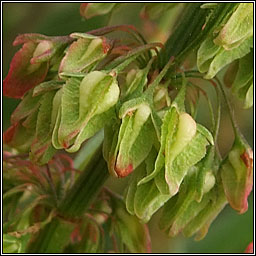 Family: Polygonaceae
Rumex hydrolapathum * Water Dock / Great Water Dock

Flowering time: July-September. Perennial.

Habitat: Found growing in shallow water in fens and ditches and beside lakes, ponds, canals and rivers. Colonises damp, bare ground in fens and marshes. Most frequent in S, E and central England.

Branched, upright spikes (to 200cm) with crowded whorls of flowers, the inner tepals with short teeth at the base of long warts. The large, pointed, lanceolate-oval leaves can reach 100cm in length.