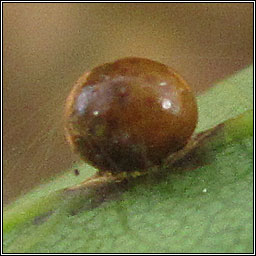 Hymenoptera: Cynipidae - gall wasp
Cynips divisa
Red Pea Gall

Agamic generation (Pea Gall) - photographs on Quercus, Oak

Hosts:
Agamic and sexual generations on Q. frainetto, petraea, pubescens, robur

Agamic - occurs on underside of leaves. A hard, thick-walled gall with small inner chamber. Iniquiline larvae often present in the gall walls

Sexual - either small, spindle-shaped galls attached to end of a vein at the leaf margin or warty catkin galls to 6mm long, barrel shaped.