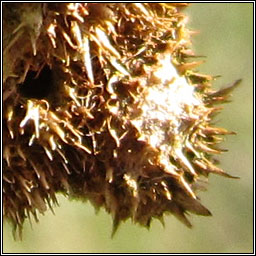 Hymenoptera: Cynipidae - gall wasp
Diplolepis mayri

Photographs on Rosa, Rose sp.

Hosts:
Rosa canina, majalis, rubiginosa

Usually forms a group of unilocular gall on buds or the underside of leaves. Initially soft, green or slightly reddish, becoming brown, hard and woody. Spines slender, unbranched, to 3mm in length.

Similar: Galls of Diplolepis rosae have branched, wiry hairs

Periclistus brandtii is an iniquiline of both Diplolepis mayri and D. rosae.