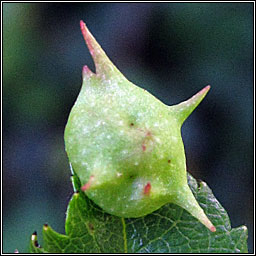 Hymenoptera: Cynipidae - gall wasp
Diplolepis nervosa
Sputnik Gall

Photographs on Rosa canina agg., Dog-rose

Hosts:
Rosa canina, glauca, moyesii, rubiginosa

Single-chambered, the white larva hibernating and pupating in the gall.

The gall occurs in two forms - smooth or with spines. Only the form with spines can be safely identified as the smooth form requires breeding and examination of the adult to separate from Diplolepis eglanteriae.