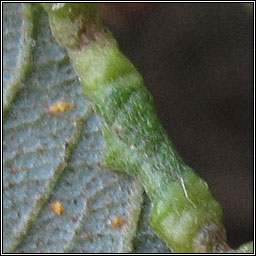 Diptera: Cecidomyiidae - gall midge
Dasineura auritae

Photographs on Salix cinerea, Sallow

Hosts:
Salix aurita, caprea, cinerea

The leaf margin is rolled tightly to the underside and contains a single yellowish-white larva. Two generations occur each year, the summer generation pupating within the gall, winter generation in the ground

Similar: Rabdophaga and Phyllocolpa spp. and the larvae of various micromoths also cause marginal leaf rolls and folds on Salix spp.