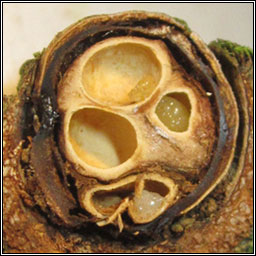 Hymenoptera: Cynipidae - gall wasp
Callirhytis erythrocephala

Agamic, photographs on Quercus x hispanica (Q. cerris x suber).

Hosts: Agamic generation on Querus cerris
Sexual generation on Querus robur

Agamic - acorn galls with 2-8 chambers, take two years to mature.
Sexual - chambers under bark of 1-year twigs, only sign is exit holes

C. glandium; identical galls, not yet recorded in GB. Adults must be reared.
Agamic: Querus cerris, faginea, pubescens, pyrenaica, robur
Sexual: Quercus cerris, ilex, robur, suber

Associated insects include Eurytoma brunniventris, Megastigmus dorsalis, also Sycophila biguttata and a Synergus sp.