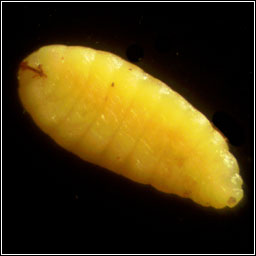 Diptera: Cecidomyiidae - gall midge
Rabdophaga albipennis

Gall on Salix alba var. vitellina, Golden Willow / Yellow Basket Willow

Hosts:
Salix alba

Forms a weak swelling on one side of a young stem below a bud, the single orange-red larva pupating in the gall

Similar:R. deletrix. Elliptic swelling just below a bud on a young stem, the wide chamber containg a single yellow larva. On S. alba, fragilis, viminalis. Not so far recorded in Britain or Ireland.