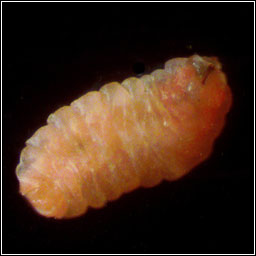 Diptera: Cecidomyiidae - gall midge
Asphondylia melanopus

Larvae in seedpod of Lotus corniculatus, Birds-foot-trefoil

Hosts:
Lotus corniculatus, tenuis, uliginosus

Swellings in sides of seedpods, the chambers lined with fungal mycelium. The yellowish-orange larva are solitary and pupate within the gall. Bivoltine

Seedpods often contain larvae of the weevil Ischnopterapion loti

Asphondylia genistae galls buds and seedpods of Genista spp.