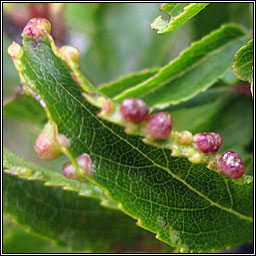 Acari: Eriophyoidea - gall mite
Eriophyes similis

Photographs on Prunus spinosa, Blackthorn

Hosts:
Prunus domestica, spinosa, also P. armeniaca, fruticosa, mahaleb

Smooth raised pustules usually formed on or near the leaf margins with the opening usually on the underside of the leaf.

Redfern & Shirley (2011a) consider Eriophyes prunispinosae a synonym of Eriophyes similis, Fauna Europaea (2014) treats them as separate species.

However the new book on European galls by Roskam says E. similis occurs on P. armeniaca, domestica, fruticosa and insititia and it is E. prunispinosae that is found on Prunus spinosa.