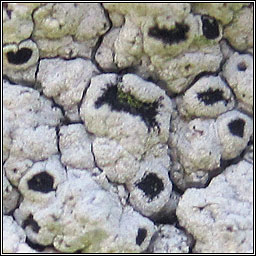 Thelotremataceae
Diploschistes scruposus

Growth type crustose
Chemical results: K+/- yellow, C+ red, P-, UV-

Found on siliceous or slightly basic rocks, often when nutrient-rich

Areolate or continuous, thick greyish thallus, often tinged yellowish when in shade. Pruina absent. Immersed black urceolate apothecia, frequently pruinose with raised thalline margins. Spores initially colourless and multi-septate, becoming dark and muriform when mature.

Similar: Diploschistes muscorum. Initially parasitic on Cladonia ssp.