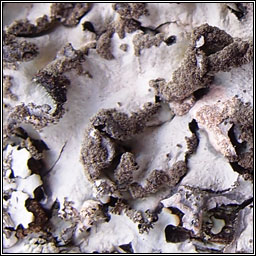 Parmeliaceae
Hypotrachyna afrorevoluta

Growth type foliose
Chemical results: Medulla K-, C+ red, KC+ red, P-, UV- or + dull orange
Cortex K+ yellow.

Probably widespread on trunks and larger branches of deciduous trees. Requires cleaner air than H. revoluta sens str.

Light greyish lobes, the edges turning under and becoming brown-tinged, the lower surface blackish. Coarse greyish-green or dark grey soredia originates in marginal and laminal pustules. Apothecia are infrequent.

Similar: H. revoluta sens str. Finer, powdery soredia.