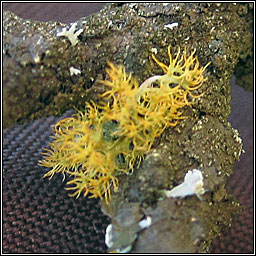 Teloschistaceae
Teloschistes chrysophthalmus

Growth type fruticose
Chemical results: K+ purple

A rare mediterranean species found on sheltered, nutrient-rich, well-lit twigs. Recent records from the south coast and southern Ireland.
BLS conservation evaluation: CR B, C2, D NR P

Compact thallus with tufts of flattened, radiating, irregularly branched lobes. Upper surface of lobes is yellow-orange, the lower surface greyish. Usually abundantly fertile, the bright orange discs are surrounded by conspicuous, eye-lash like fibrils. Soralia are absent.

Similar: T. flavicans. Lobes with sorediate margins. Apothecia rare.