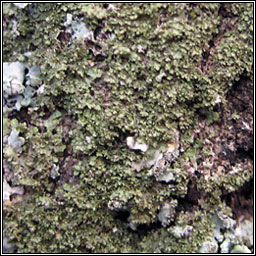 Parmeliaceae
Melanohalea laciniatula

Growth type foliose
Chemical reactions negative

Occurs on nutrient-rich trunks and branches of well-lit roadside deciduous trees. First recorded in Surrey in 1930's

Adpressed green or brown thallus capable of forming large patches, the centre covered with small, overlapping, flat or suberect folioles. Marginal lobes are smooth, flattish, +/- developed. Apothecia unknown. Lower surface of lobes pale with simple rhizines, upper without pseudocyphellae.