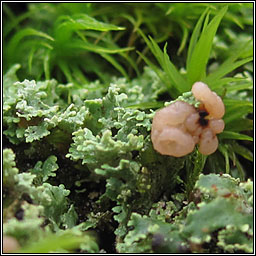 Cladoniaceae
Cladonia caespiticia

Primary thallus squamulose, secondary thallus fruticose
Chemical results: K-, C-, KC-, P+ red, UV-

Occurs on mossy banks, trees and stumps in sheltered old woodlands.
NIEC 'Old woodland' indicator species

The deeply incised, greyish or brown-green basal squamules form small, compact cushions. Apothecia are pinkish to pink-brown, with or without short, +/- translucent stalks. Pycnidia brownish-black.

Similar: Cladonia parasitica. Squamules with sorediate margins.