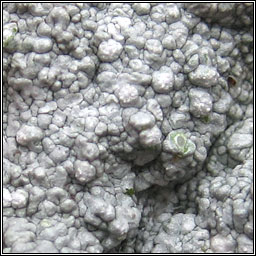 Pertusariaceae
Pertusaria multipuncta

Growth type crustose
Chemical results: K+ yellow, C-, KC+ yellow, P+ orangish, UV- or glaucous

Most frequent on trees with smooth, acidic bark in old, undisturbed woodland, especially on twigs and young branches. An NIEC 'Old woodland' indicator species.

Variable. Smooth whitish-grey thallus or thick, warted and +/- cracked. Scattered white, clearly delimited sorediate warts, 1-5 brown apothecia within each wart. The asci are 1-spored.

Similar: Phlyctis agelaea.
Pertusaria albescens and Pertusaria amara are usually sterile.