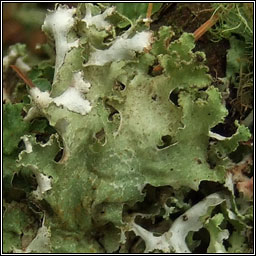 Parmeliaceae
Platismatia glauca

Growth type foliose
Chemical results: Upper cortex: K+ yellow, UV-

Found on acid-barked trees (often on horizontal branches) also on upland rocks and soil.

Very variable. Blue-grey to green-brown thallus, +/- erect, tufted lobes with crisped, incised margins that can be isidiate or sorediate. Rhizines are usually absent. Apothecia rare.