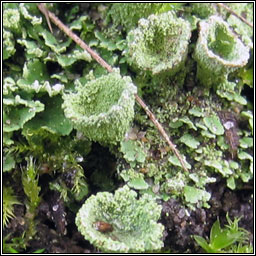 Cladoniaceae
Cladonia humulis

Primary thallus squamulose, secondary thallus fruticose
Chemical results: K+/- yellow, C-, KC-, P+ red, UV-

Found on dry, sandy, recently disturbed sea-cliffs, dunes, gardens and coastal roadsides.

Persistent +/- rounded and incised basal squamules, often forming continuous carpet. Podetia to 5mm, grey or green-grey, the cups subsessile or abruptly tapered to short stalk, not proliferating from rims. Persistently corticate at base, densely farinose-sorediate above and within cup. Brown apothecia and pycnidia are rare.