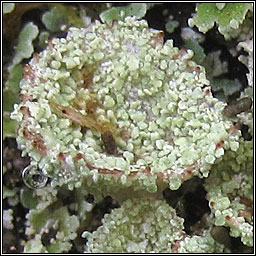 Cladoniaceae
Cladonia pyxidata

Primary thallus squamulose, secondary thallus fruticose
Chemical results: Thallus K-, C-, KC-, P+ red, UV-

Fairly dry acidic soils, banks, walls and tree trunks. Distribution uncertain because of possible confusion with C. pocillum, C. chlorophaea agg, and Cladonia monomorpha

Small, slightly indented basal squamules, the podetia expanding smoothly, exterior with coarse granules and sometimes small squamules. Interior with corticate granules, soredia absent.