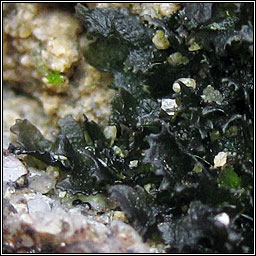 Collemataceae
Leptogium gelatinosum

Growth type foliose
Chemical reactions negative

Widespread, occurs among mosses on calcareous rocks, dunes and soil and on mortar. Occasional over moss at base of trees. The most frequent Leptogium in southern and western Britain and Ireland.

Can be variable. The brown or greenish-brown lobes usually erect and wrinkled with entire or lanceolate margins. Usually fertile, apothecia to 1.5mm, discs red-brown or brown. Isidia are absent.

Similar: Leptogium pulvinatum. Smaller more divided lobes.