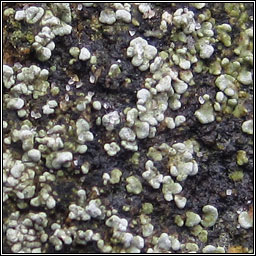 Ramalinaceae
Solenospora vulturiensis

Growth type squamulose
Chemical results: K+ pale yellow, C-, KC+ pale yellow, P-, UV-

Coastal above HWM on shaded rocks and in seepage tracks and nutrient-rich soil pockets. Most frequent on western coasts.

Thallus of small pale bluish-grey squamules, the pruinose lobes variably sorediate at tips. Infrequent, pale pinkish-brown, globose apothecia. Variable, the thallus is sometimes granular, lobes +/- contorted.