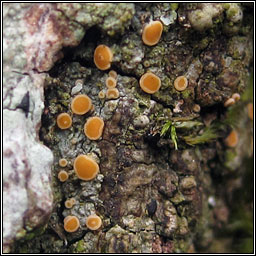 Coenogoniaceae
Dimerella lutea

Growth type crustose
Chemical results negative

Occurs over mosses on soil and bark and occasionally on rocks in shady, damp old woodland

Thin light green-grey thallus, orange apothecia with paler margins, appearing +/- translucent in wet conditions. Pale yellow pycnidia are occasionally produced. Spores colourless, 1-septate. Apothecia possibly seasonal.

Similar: Dimerella pineti. Caloplaca species are K+ red.