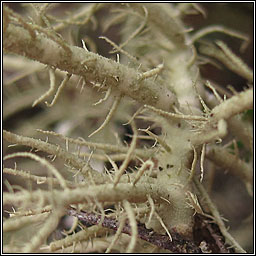 Parmeliaceae
Usnea flammea

Growth type fruticose
Chemical results: Medulla: K+ yellow turning red, P+ orange

Most frequent on exposed rocks near the coast, also found on mossy trees and heather stems.

Sub-pendulous growth with lax medulla. Unblackened base, main stems +/- smooth near base with pale annular rings on main branches. Lateral branches grow from one side of main stem, often ending in a fine tassel.