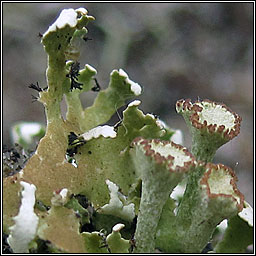 Cladoniaceae
Cladonia foliaceae

Primary thallus squamulose, secondary thallus fruticose.
Chemical reactions: K-, C-, KC+ yellow, P+ red, UV-

Usually found in coastal areas on dry calcareous soil and among short grassland.

Large, deeply incised yellow-green squamules, rarely with black cilia on the margins. The undersides of the lobes are whitish-yellow and small podetia are occasionally produced with smooth, irregular cups.