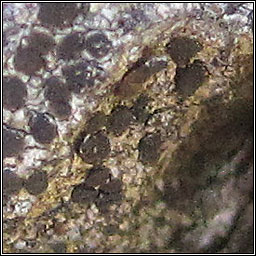 Lecanoraceae
Lecanora aitema

Growth type crustose
Chemical results: K-, C-, KC +/- faint yellow, P-, UV+ pale orange

On acidic bark of twigs, wood and worked timber. Mainly in upland areas

Small patches of granular or areolate creamy-white thallus, apothecia with convex red-brown to greenish-black discs. Margin initially distinct, soon excluded. Spores simple, (10-)12-17 x 4.5-5.5 Ám.