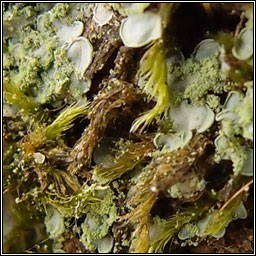 Incertae sedis
Normandina pulchella

Growth type squamulose
Chemical reactions negative.

Usually occurs on mossy, shaded trees in parks and woodland in south and western Britain, rare on damp, mossy rocks.

Small green or bluish-grey 'ear-shaped' lobes with raised margins and clusters of paler soredia forming on the lobe margins. Perithecia are occasional, +/- embedded, strongly projecting on underside of thallus.