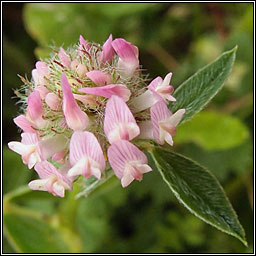 Family: Fabaceae
Trifolium striatum * Knotted Clover

Flowering time: May-July. Annual.

Habitat: Found on the coast and inland on open, well-drained sandy or gravelly grasslands.

Oval, unstalked flowerheads bearing pinkish flowers with a downy, inflated, red-ribbed calyx, the teeth erect when fruiting. Lateral veins on the leaflets are not curved. The whole plant is softly downy-hairy with spreading stems.