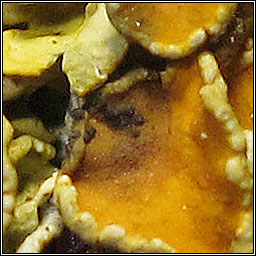 Arthoniaceae
Arthonia molendoi #

Lichenicolous, photographs on Xanthoria parietina

Scattered distribution, occurs on Caloplaca and Xanthoria species. Only recently separated from A. epiphyscia.
BLS conservation evaluation: LC NR

Convex black apothecia (0.1-0.3mm), epithecium black, hypothecium hyaline or straw-coloured. Asci 4-8 spored, spores 1-septate, constricted at septum, cells unequal, 8-11 x 4-6 Ám. Microscope photograph below.

Similar: A. epiphyscia is occasional on Physcia adscendens and P. dubia. Arthonia phaeophysciae occurs on Phaeophyscia spp.