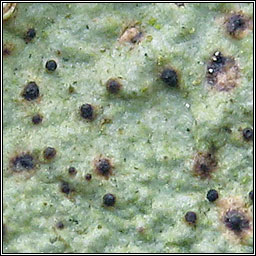 Incertae sedis
Abrothallus microspermus

Lichenicolous fungus, on thallus of Flavoparmelia caperata

Widespread, especially in the south-west on Parmeliods including Punctelia, Parmotrema and Flavoparmelia.

Black apothecia (spores brown, 1-septate 9.5-11 X 3-5 µm) are rare.
The anomorphic stage is Vouauxiomyces truncatus with abundant superficial blackish pycnidia. Conidia 6.5-8 X 4-5.5 µm.

Similar: Abrothallus parmeliarum can be found on Parmelia saxatilis, its anomorph Vouauxiomyces santessonii with conidia 7.5-10.5 x 5-7 µm.
Abrothallus prodiens occurs on Hypogymnia physodes and Abrothallus parmotrematis on Parmotrema spp.