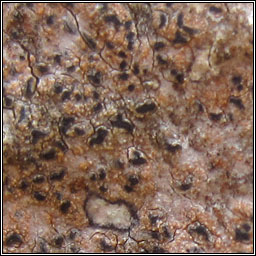 Roccellaceae
Opegrapha rufescens

Growth type crustose
Chemical results negative.

Scattered distribution on shaded, nutrient-rich, basic-barked trees

Greenish or red-brown thallus, sometimes with dark prothallus. Apothecia are curved or +/- stellate, usually numerous with discs fully exposed, surrounded by thin excple and distinctive raised whitish pseudothalline exciple. Spores 3-septate, (15-)17-27 x 3-5 Ám, often curved. Photobiont Trentepohlia. Microscope photographs below.

Similar: Schismatomma graphidiodes.