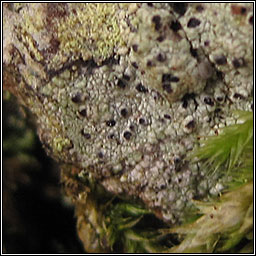 Ramalinaceae
Cliostomum griffithii

Growth type crustose
Chemical results: Thallus K+ yellow, pycnidia walls K+ purple

Can be common on dry, acidic bark (often of mature Oak) and on wood, fences and posts. Rare on rocks, shrubs and Calluna stems. Tolerates moderate pollution.

Can be variable and often sterile. Smooth or warted, whitish or greyish thallus. Apothecia are +/- pruinose, pinkish-brown, piebald or blackish-brown. Small black pycnidia are usually present. Spores (0-)1(-3) septate, 8-16 x 2.5-3.5 Ám. Microscope photograph below.