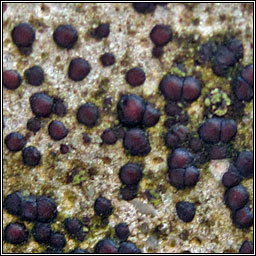 Porpidiaceae
Clauzadea monticola

Growth type crustose
Chemical results negative

Widespread on calcareous rocks, mortared walls, asbestos and cement

Grey or grey-brown, +/- immersed thallus, the convex black apothecia becoming reddish when wet. Apothecia never pruinose but can resemble perithecia when dry. Hypothecium red-brown. Asci 8-spored, spores simple, colourless, thin-walled, (6-)8-12(-14) x 4-9 Ám. Micro photo below.

Similar: C. immersa. Apothecia deeply immersed, on hard limestone. Sarcogyne regularis: Pruinose discs reddish when wet. Multi-spored ascus. Lecidella stigmatea: Thallus K+/- yellow.