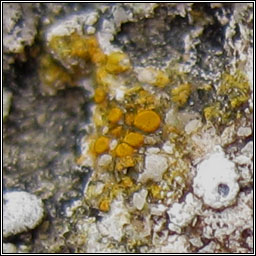 Teloschistaceae
Caloplaca 'citrina'

Chemical results: K+ crimson
Widespread on calcareous and nutrient-rich substrates.

Recent work has shown that 'true' Caloplaca citrina does not occur in Britain and Ireland, the name having been wrongly applied to what is now known to be a complex of species:
Caloplaca austrocitrina,
Caloplaca dichroa,
Caloplaca arcis, minutely lobate at margins, blastidia present.
Caloplaca limonia,
C. flavocitrina, edges of areoles sorediate, apothecia margins smooth.