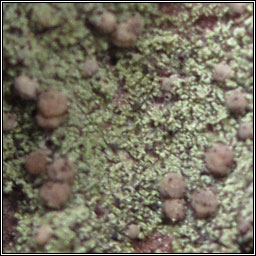 Micareaceae
Micarea doliiformis (Lecidea doliiformis)

Growth type crustose
Chemical results negative

Local distribution on dry, rough, acidic bark or exposed wood
BLS conservation evaluation: LC NS

Finely granular, grey-green or whitish-grey granular thallus often forming a thick crust. Pycnidia abundant, greyish-brown and usually with thin white pruina. Apothecia less frequent, convex or sub-globose, pinkish-brown with white pruina. Spores(7-)8-11 x 2.7-3.7 Ám. Micro photo below.