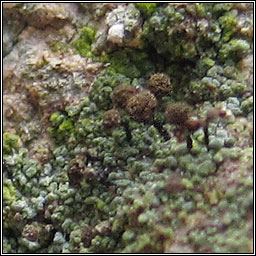 Coniocybaceae
Chaenotheca trichialis

Growth type crustose
Chemical results negative
Identification: Bryan Edwards, Vince Giavarini

Rare, found in dry crevices on acidic bark and wood

Very variable. Greenish-grey granular to squamulose thallus, forming a crust or restricted to small patches. Stalked apothecia to 2mm tall, their margins and sometimes upper stalk with thin white pruina. Asci formed in chains, globose spores 3-4 Ám diameter.

Similar: C. ferruginea. Thallus with yellow-red patches. Larger spores.