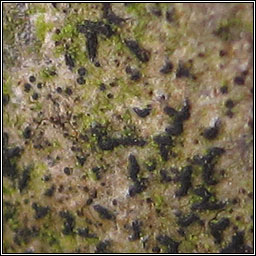 Roccellaceae
Opegrapha niveoatra

Growth type crustose
Chemical results negative

Deciduous trees with basic and neutral bark; Elm, Ash and Sycamore.
Host to Laeviomyces opegraphae, pycnidia with brown conidia

Thin dull-grey to olive-brown thallus, the small ((0.3-1mm), sessile lirellae simple, curved or stellate. Disc partially exposed with age. Spores 4-7(-8) septate, 20-30 x 2.5-4 Ám. Pycnidia abundant, conidia short, curved and worm-like. Microscope photograph below.

Similar: Opegrapha vulgata. Larger lirellae, longer, curved conidia.