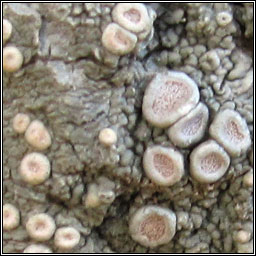 Pertusariaceae
Ochrolechia parella

Growth type crustose
Cortex K-, C- (or C+ yellow), UV-. Apothecia C+ red, KC+ red, UV+ white

Can be frequent on coasts and inland on siliceous or slightly basic rocks and walls. Occasionally found on wood and trees.

Numerous +/- white-pruinose, pinkish apothecia on a thick, warted, grey or whitish thallus. The thallus is surrounded by a zoned prothallus with thickened margins. Asci 2-8 spored, spores simple, 45-75 x 25-45 Ám. Microscope photographs below.