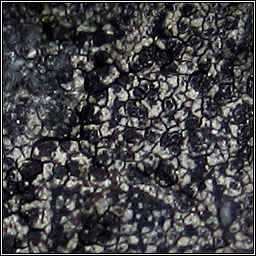 Physciaceae
Buellia aethalea

Growth type crustose
Chemistry: K+/- yellow going red, C-, P+/- yellow-orange, UV- or negative

Often a pioneer species on acidic rocks, pebbles and dry stone walls.

Mosaic-forming areolate thallus, often less than 2cm diameter with black prothallus. Areoles pale to dark grey, sometimes tinged brownish. Apothecia abundant, immersed with small black discs. Pycnidia rare. Spores 1-septate 13-18 x 6-8 Ám. Microscope photographs below.

Similar: Buellia ocellata, greenish-yellow thallus, C+ orange.
Placopyrenium fuscellum, chemical reactions negative.