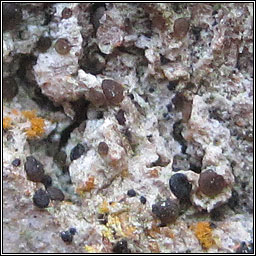 Ramalinaceae
Bacidia arceutina

Growth type crustose
Chemical results negative. Hymenium colourless

Infrequent on branches and trunks of nutrient-rich, basic-barked trees

Thallus is often +/- immersed, cream, grey or grey-green, smooth or minutely warted. Apothecia are pale-brown and flat, becoming blackish and +/- globose. Hymenium and hypothecium colourless. Spores are colourless, 3-7 septate, 33-55(-67) x 1-5-2(-2.5) Ám. Micro photo below.

Similar Bacidia species have green or purple apothecial pigments.
Lecidea erythrophaea has simple spores.